Black Point Heritage and Recreational Park
Black Point Heritage and Recreational Park is one of the most popular recreational and historic sites on the windward coast. Its main feature is the Black Point Tunnel which was constructed by the British around 1815 using slave labour. A marvel of engineering for its time, the 360 feet long tunnel was enabled easier transport of sugar from the mills of Grand Sable Estate to the wharf at Byrea.
Other attractions at Black Point Heritage and Recreational Park include a black sand beach, Grand Sable River surrounded by natural vegetation, a tropical garden and a recreational field (can be used for sports or other events). The park was also used as a film location for the movie Pirates of the Caribbean: Curse of the Black Pearl.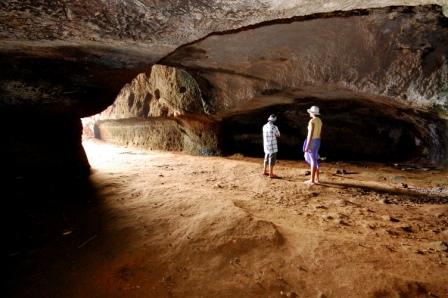 Opening hours: 7am – 5.30pm

Fees: $5 EC
Facilities: Medium and large gazebos, tables, washrooms and parking
The site is co-managed by the Black Point Ecotourism Development Organisation. The site can be used for many events from a small family gathering to a wedding or large concert - see hiring sites for more details.
Safety at the site
Swimming on the beach is unsafe because of the heavy swell and strong currents.
Download the site rules or the site brochure.