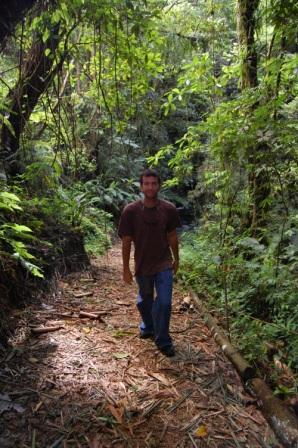 Cumberland Nature Trail
The Cumberland Nature Trail winds its way through beautiful rainforest including the Cumberland Forest Reserve, home of many unique flora and fauna.

There are many species of birds along the trail including the St. Vincent Parrot, Whistling Warbler, Short Tail Swift, Brown Trembler, Lesser Antillean Tanager, and Grenada Fly Catcher. The trail is 1.6 miles (2.5km) long, about 1.5-2 hours walking. Bird watching booths are scattered along the trail, and guides are available for hire.

The trail is currently open to visitors, however some sections of the trail are overgrown, steep and dangerous (particularly if it rains). Visitors should take sensible precautions when hiking the trail.

Opening hours: 7am – 5pm

Fees: $5 EC

Distance from Kingstown: 25 miles (40 km) - 1 hour 20 minutes drive

Facilities: Visitor centre with at the start of the trail and a ticket booth, parking and restrooms

The trail is co-managed by the Cumberland Valley Ecotourism Organisation. 
 Download the  site rules and site brochure.
The Cumberland Nature Trail is closed to the Public effective Monday 30th January 2017.